created by Samantha Rothwell published on 13 May 2020
We are excited to share the launch of our new Barnet Transition Passport.
The Transition Passport was originally designed to support the post 16 transition of young people with additional support needs in Barnet. However, the template may be adapted to support the transition of children and young people at other stages of their education.
Four different formats of the Transition Passport have been developed to ensure that these can be personalised and illustrated in accordance with the wishes of the young person.
The young person can also choose whether to use the Transition Mini-passport which gives a brief overview about themselves, or the more detailed version of the Transition Passport and share more information about their needs and wishes.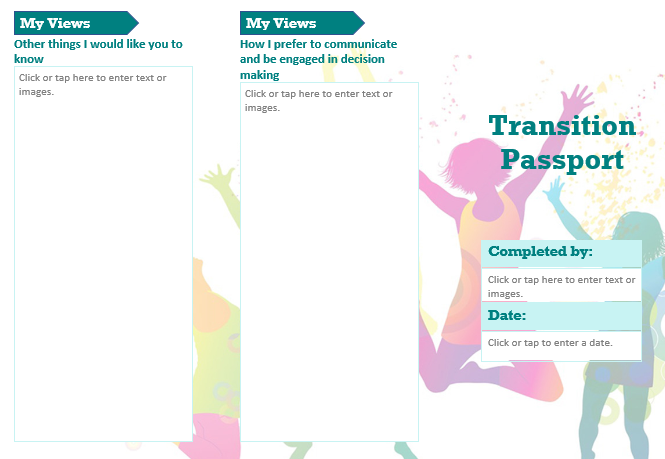 The four different versions are available to download here:
1. Mini-Passport (no background)
3. Transition Passport (no background)
Both types of Transition Passports are available in either a simplified version with no background or a more colourful version with background graphics.
Transition Passport Guidance
Accompanying guidance has been created to support with the completion of a Transition Passport. You can download this here:
Once complete, the Transition Passport can be circulated, with the consent of the young person, to people involved in the transition. Confidentiality and Safeguarding issues must always be considered.
If you would like further information about the Barnet Transition Passport, please contact Mala Perera: Specialist.Team@barnet.gov.uk
Back to News Articles
Archive
2022
2021
2020
2019
2018